The drive from Washington to Montana was long. We got going later in the afternoon, and unfortunately didn't get to see most of the Montana section in daylight. We did make it to Coeur d'Alene, Idaho before sunset though. We enjoyed a nice pit stop here as we walked along the lake. Although we just passed through, Coeur d'Alene seems like a great little vacation spot for the future!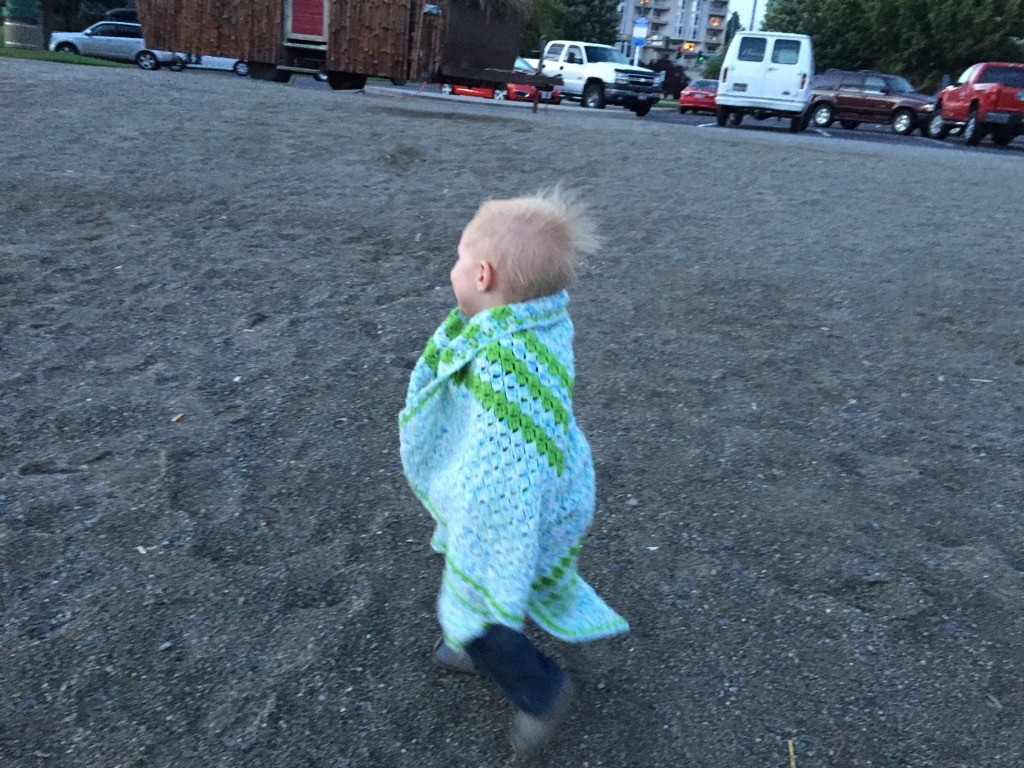 We spent a couple nights in Missoula at an airbnb. While JZ worked on Monday, the boys and I hiked up to the "M". This was a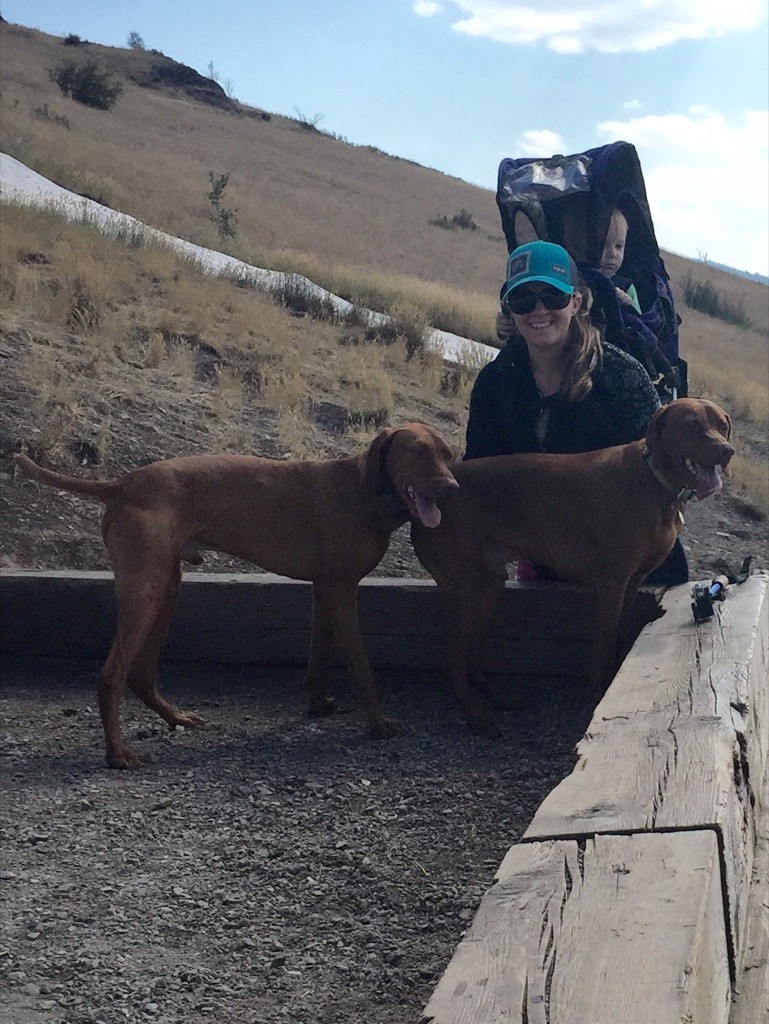 pretty easy hike, but plenty of a workout for us. I think we counted 14 switchbacks and it took us about 45 minutes each way. A college student who was doing her pilgrimage to the M adopted us and we chatted with her the entire way. Monday night, JZ watched Little Monkey while I took another dance class. I took a jazz class at the Downtown Dance Collective. Again, this was a great class for any adult. A good level for me to enjoy, but from what I gathered it seemed repetitive from week to week, which is great for those who have not been dancing very long and enjoy it for a workout. Before my class, we had a delicious, inexpensive meal at a Brazilian restaurant, Five on Black. Great thing about college towns: delicious, affordable food! Then after my class, because ice cream makes a bad day good and a good day better, the three of us enjoyed some world famous ice cream at The Big Dipper. Our Missoula visit was short and sweet. We would never want to live there, or even vacation there, but think it's a great little town for college and if Little Monkey wanted to go there, hey- he's already done his pilgrimage to the "M"!
Tuesday, we checked out of our airbnb around lunchtime and JZ worked from his hotspot while I drove us down to Pray, Montana. This drive was very pretty. I feel like I got redemption as far as scenery goes, since we missed the drive coming into Montana. We spent one relaxing night in a cute little ranch cabin. The pups loved the wide, open range; and we enjoyed stargazing and chasing Little Monkey around. The cabin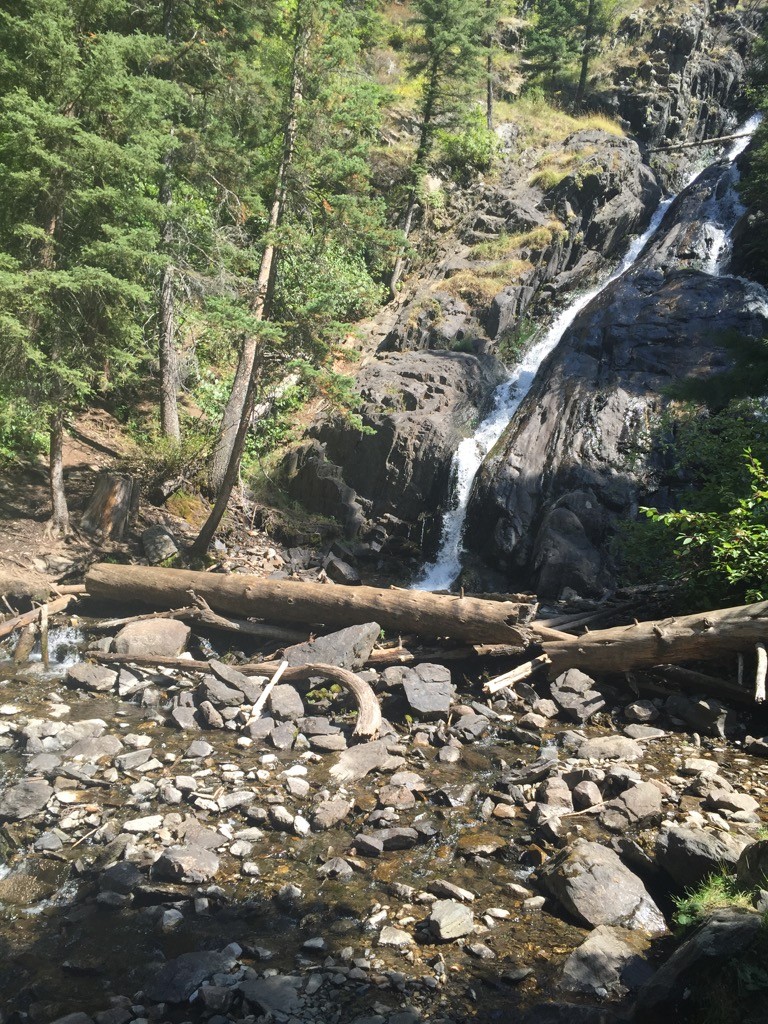 even had a great telescope that I used to glimpse the moon in a way I had never before. Out on the ranch felt very wild wild westish. The next morning, JZ worked an early shift and I took the boys out for another hike. I found a great little hike in the woods up to a waterfall. After getting out some energy, it was time to say goodbye to our home on the range and prepare the car for our next leg of travel.
Now, so far, the most frustrating part of our trip has been the packing. Originally, we planned on putting the pups in the rear of the Subaru behind the doggy gate- and the cat in her carrier in a backseat. Well, after a 3½ hour drive from Tahoe to the bay area with an unhappy Queen Bee, we decided to try something different.  V1 & V2 sat yin-yang style (if you know Vizslas and have multiples, you know what I mean) in a back seat, and Queen Bee ended up with the entire trunk area to herself.  We ordered this pop up "room" for her and also this pup up "litter box " which I had planned on using as a litter box/feeding area for her so as to keep the pups and baby out of her space during our stays. To try and make her as comfortable as possible, we set up this pop up "room" for her in the back of the Subaru and she had the best seat in the house from the bay area to Montana. She was still pissed.
The insensate meowing was not working for us anymore, so we decided to give something else a try. Rearranging the car again, we put her in her carrier in the other back seat. Also, trying to make our activity toys (ie stroller, bike trailer, baby pack, etc) more accessible, we put the suitcases up top in the Thule rocket box and loaded the outdoor activity equipment into the trunk.
Wishing we had rented an RV, we headed toward Yellowstone.
On the Road Again,
Kato